Just the other week, I came upon a grave in Trinity Churchyard in Carrigart, my hometown, on which was recorded a World War 1 death. Amazing to think that I grew up in a parish in north Donegal and never heard about a young local man who by the age of 23 had received two bravery awards and had given his life in the 1st World War
This family headstone in the Trinity Churchyard in Carrigart, records the deaths of three sons, two of whom predeceased their parents. One of these had two bravery awards and was killed in France in 1917.
So what is the story of James Fisher? Who was he?
James was born in Umlagh outside Carrigart on December 10, 1893, the eldest son and third child of James Fisher and his wife Helen McIlwane.
The 1901 census tells us that parents James and Helen were living in Umlagh with their 7 children, Rachel aged 10, Margaret 9, James 7, Kezie 5, Alexander 4, John 2 and David 6 months and James' brother John. The census record can be seen here.
By 1911, David, born on October 9, 1900, had died in 1905, Rachel and Margaret were no longer living at home, but the family had 5 new members. The household at that time consisted of father James, mother Helen and John senior as well as young James, now 17, Kezie who was 16, Alexander who was 14, John who was 12, and new arrivals Annie aged 9, Margery 7, Catherine Susan aged 5, Aaron who was 3 and another David, then only 2 months old, born on January 21, 1911. The 1911 census record for the family can be seen here.
James enlisted in the Royal Inniskilling Fusiliers and then transferred to the Machine Gun Corps, specializing in, as the name suggests, machine gun duties. In 1916 Lance Corporal James Fisher was awarded the Distinguished Conduct Medal, (the DCM,) for gallantry and the news was carried in The Derry Journal in September of that year.
The citation for this award was as follows:
'18679 Actg. L/Cpl J Fisher Mach. Gun Corps (LG 22 Sept. 1916)
For conspicuous gallantry in action. When his seniors had become casualties he took command of the gun team and pushed forward. Later he took his gun into a shell hole, caught the enemy in the open , and drove back their counter attack.'
The Distinguished Conduct Medal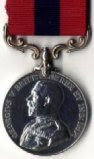 James was a very brave young man as he was again recognized for gallantry winning another Distinguished Conduct Medal or 'Bar'. The 207th Machine Gun Company was attached to the 3rd Australian Division between October 1916 and October 1917 and it was during this time that he won the second award. The citation for his second or 'bar' award of the DCM is as follows:
'A/Corpl James Fisher D.C.M. For conspicuous gallantry on the night of 17/18 May 1917, when in charge of a Machine Gun in very exposed position on ?? the enemy attempted a raid of ? Gap at the same time heavily bombarding ? . No 18679 Corporal J Fisher at once opened fire on his S.O.S target 'D' Gap(?) and continued to fire although shells were bursting all around his position, and in spite of the fact that he received blows on the head and in the small of the back from shrapnel. Owing to the protection of his steel helmet and belt respectively, the only injuries received were bruises. His sub-section(?) officer tried to persuade him to be relieved at the gun, but he stuck to his post till the situation became normal, although in a dazed and deafened state. After the raid was over he wanted to stay with his gun, but was ordered by his officer to go to Section Headquarters for the night. Besides materially helping to repel the raid, the example set to the N.C.O.s and men of this Company will have a far reaching effect'
This recommendation is recorded is the 9th Infantry Brigade, 3rd Australian Division on 22 May 1917.
However his luck ran out and Sergeant James Fisher, DCM bar Service No. 18679, was killed on September 25, 1917, probably at the Third Battle of Ypres. At this time it appears that the Machine Gun unit was no longer attached to the Australian forces. James probably died around Polderhoek Chateau Ridge on the morning of September 25, 1917, when the British were about to launch their own attack.
In a History and memoir of the 33rd Battalion of the Machine Gun Corps, the events of the fateful day are recorded;
'By 12 midnight on the 24th-25th September …the 207th Machine Gun Company..was ordered to be in position by 1 a.m on the morning of the 25th, about 159 yards behind our front posts.. About 3.30 on the morning of the 25th, the enemy opened a bombardment of hitherto unparalleled intensity upon our front.
The 207th Company, which…was close behind our front line grouped in batteries, opened fire with sixteen guns at almost point blank range into the massed hordes of the enemy. The enemy was concentrated behind Polderhoek Chateau Ridge… Low flying enemy aeroplanes soon, however, detected (them) and both by machine gunning and directing artillery upon the 207th Machine Gun Company, the enemy inflicted very severe casualties amongst the gunners'
The body of James Fisher was never found, possibly blown to bits. He is commemorated on the Tyne Cot Memorial for the missing, as his grave is not known. He is one of 34,992 young men whose remains were never recovered and whose names are inscribed on this wall.
At the time of his death, James was owed £45/10/5 plus a war gratuity of £16/10/0 which sum was paid to his father on November 15 1919. Not much consolation for the terrible loss of a beloved son.
When researching this post, I made a table of the men from our parish of Mevagh, either born there or who had lived there at one time, and was astonished to find so many who had died between 1914 and 1918. This data has been extracted from the County Donegal Book of Honour, The Great War 1914-1918. These records are confined to deaths in the years 1914 to 1918 only and do not include, for example, a Mevagh man who is buried in Clontallagh who died in 1919.
The statistics are quite startling. In 1914, 2 men from our parish died, 3 died in 1915, 1 in 1916. In 1917, 9 died – 4 of them in a 4 week period alone (and one on the same day as James Fisher) – and 7 died in 1918.
It would be interesting to cross reference the data in the book with the civil records and census records now online and to include those who died from wounds after the 1918 cut off date. and to find their military records.
Sergeant James Fisher D.C.M (Bar) of Umlagh is the most decorated of these Mevagh men and he lost his life 100 years ago. He deserves to be remembered as a son of our parish, as indeed, do all of these men who lost their lives in that conflict.
There is, I understand, a commemorative plaque in the Carrigart Presbyterian Church. I must try to get a photo, if that is allowed.
THE PITY OF WAR!
Sources
County Donegal Book of Honour, The Great War 1914-1918.
Australian War Memorial at https:/www.awm.gov.au/collection/R1590453
http://www.cwgc.org/find-war-dead/casualty/1631955/fisher,-james/.
https://en.wikipedia.org/wiki/Action _of _25- September_1917
https:/archive.org//stream/historymemoirof300unse#page/32/mode/2up/searfch/207th
Ancestry.com UK Army Registers of Effects 1901-1929
With thanks to Damian Shiels, Military Historian, for his help in sourcing information for this post.