The Genealogy Event took place this week in Adare Co. Limerick. I had signed up for Day 2 as the range of topics were of particular interest to me and I was not disappointed!
The day began with Michelle Leonard's fact-packed talk on using DNA to solve Family Tree Mysteries. Michelle is a 'DNA detective' and later she gave a second talk about her years helping to track down relatives of bodies recovered from a World War 1 mass grave in France. 1,335 Australian and 350 British soldiers were missing after the battle of Fromelles in July 1916. In 2008 a mass grave was located with remains of 250 individuals. These were re interred in a new cemetery at Fromelles (Pheasant Wood) after DNA samples had been taken from teeth. 151 of the 250 have been identified and Michelle told interesting stories of individuals she helped identify. You can read more about the fascinating Fromelles Genealogy Project here.
An extremely useful overview of Irish Newspaper Archives and how to search them effectively was given by Andrew Martin. I am looking forward to testing his tips later! The site has 70 titles and with plans to add more very soon and is a very useful resource for anyone doing family research.
Joe Buggy, a well known expert on genealogical research in North America, talked about the records available in the United States, what is available at national and state level, the different census records, and how to find naturalization and immigration records.  Joe has published a book on tracing New York Ancestors.
His second talk was an excellent presentation on the resources available to researchers of New York ancestors and covered state census records, birth records, marriages and death certificates and where these can be located, as well as RC parish records and where Irish people are likely to have settled and to be buried, newspapers and the information they would have, one for example having lists of passenger arrivals. Joe blogs here where he has hints and tips on researching in New York.
The journalist Conall Ó Fátharta talked about issues with researching adoptions in Ireland, in particular babies placed from Mother and Baby Homes and Magdalene Laundries, significant  numbers of whom were sent for adoption without the consent of the mother. Conall has concerns around the mortality rates in these places and wonders if in fact death statistics may conceal the fact that many of these children  may have been sent for adoption to well heeled families.  This is a harrowing topic, but relevant to genealogists as these children may now be trying to research their family history.  Conall blogs here .
Finally, we had Ciaran O'Reilly from the excellent Irish Famine Eviction Project.  The project has uncovered an amazing number of evictions since the project began. The map about to go online will have links to the location and name of landlord and will be a great resource for researchers wondering about their families during this time. The evictions were not solely carried out on behalf of the absentee landlords, but could have been on behalf of  local clergy, merchants, shopkeepers, business people and from all religions, including Catholics and Quakers.  Ciaran has called on anyone who knows about evictions to make contact with the site, whether they be individuals or local history groups. This research will cause history to be rewritten as long forgotten evictions come to light.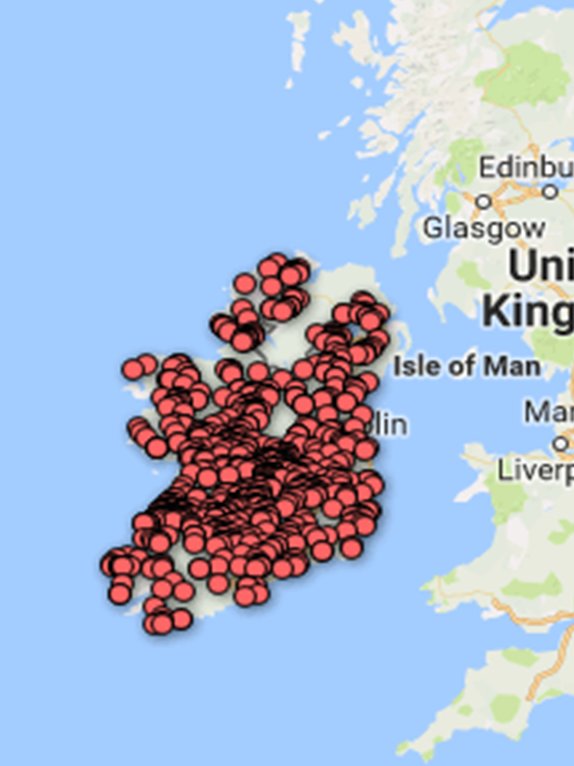 The new locations map revealed by The Famine Eviction Project
It was a most interesting day with great presentations that were both informative and useful!